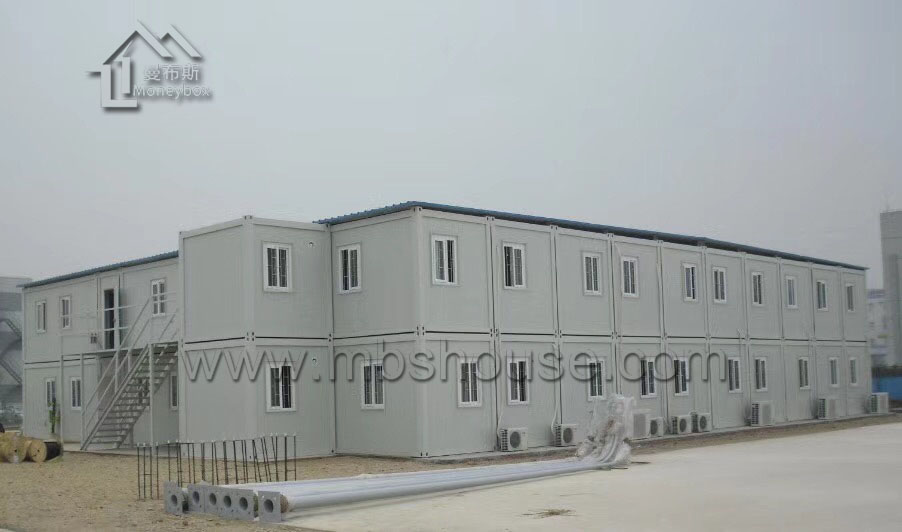 This Container House project is located in Malaysia, it's a big labor camp project for 1500 workers. As customer's request, we send our engineers to guide local workers about the installation, which lasts about 3 months.
Project Overview
Time: 2015
Location: Malaysia
Type: Office and Labor Camp
Area: 280 units
Challenges & Solution:
1. Malaysia's climate is categorised as equatorial, being hot and humid throughout the year.So we used hot and humid resistance sandwich panel, EPS sandwich panel, for wall and roof.

2. Because of the project want to recycle the container after one construct site finished, so we use this type of flatpack container house, it's strong and can stack to 2 floors, it save land space and client can transport them to other sites freely in future.
Details:
Install Size:W2400*L5800*H2800mm ;
Packed Size: W2400xL5800xH460mm
Main Structure:
Column:160*210*2.5mm Steel Bending;
Roof Beam:160*120*2.5mm Steel Bending;
Roof Purlin:80*40*1.8mm Square Tube;
Floor Beam:160*80*2.5mm Steel Bending;
Floor Purlin:80*80/40*1.8mm Squre Tube;
Wall:50mm/0.326mm EPS sandwich Panel;
Roof:0.45mm Color Steel sheet+0.3mm currangated steel sheet+ glass wool insulation + color steel ceiling;
Door:800*2000mm*1 set;
Window:1125*1200mm*2set( with security bar)
Floor:18mm MgO panel+PVC floor+PVC skriting
For More information about Flatpack Container House please click here
The fact shows that we satisfied client's expect by using this type of container house, recycleable, fast install, cosy .
This camp is for many purposes, such as accommodation, office, storage, canteen, guard house etc.